Offshore Betting Sites Accepting QB Direct Deposits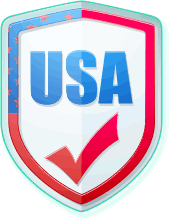 2022 Update: The best offshore betting sites no longer accept QB Direct (aka QuickBit) for rapid Litecoin deposits using credit and debit cards. However, you can still fund your offshore betting activities safely, legally, and quickly using Bitcoin, Bitcoin Cash, Ethereum, Litecoin, and other supported cryptocurrencies. It's easier than ever to buy crypto through major online exchanges, though first-time buyers will still experience a wait of 5-10 days for their purchases to clear (unless they use the Zelle-to-Bitcoin process, which reduces wait times to just 30-60 minutes via an online crypto exchange).
We all know that cryptocurrencies are the best ways to fund legal offshore betting and gambling accounts. However, due to the public's general unfamiliarity with crypto and the comparative complexity of getting started with these gambling banking methods, many users who would benefit from using Bitcoin, Litecoin, Ethereum, and other altcoins miss out on all the perks that crypto gambling has to offer.
Fortunately, QB Direct by QuickBit is a new third-party service that helps facilitate making crypto deposits with online vendors without the end-user needing to worry about exchanges, crypto wallets, and all the other minutiae involved with the cryptocurrency market. And naturally, many of the best offshore gambling operators now employ the platform.
To sign up and make crypto deposits without the hassle and delay of actually buying Bitcoin or other altcoins, these betting sites that allow QB Direct crypto purchases have you covered. Our brief guide explains the service and why it's a gamechanger for betting online with cryptocurrency.
The Best Offshore Gambling Sites Accepting QB Direct In 2023
| Site Name | Bonus Offer | Payout | U.S. | Join |
| --- | --- | --- | --- | --- |
| | 200% Bonus Max $9,750 | 24-48 Hours | | Visit Review |
| | 200% Bonus Max $10,000 | 24-48 Hours | | Visit Review |
| | 100% Bonus Max $3000 | 24-48 Hours | | Visit Review |
What Is QB Direct?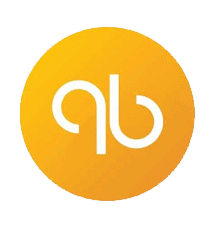 QB Direct is a new service from a company called QuickBit, and its goal is to make the acquisition of cryptocurrencies simpler than ever. It's important to note that QuickBit and its QB Direct product are not involved in the online gambling business in any way. That is, they do not condone gambling and are not sponsors of or endorsed by this website or any online betting operation.
Instead, QB Direct is simply a service that several of the top offshore betting sites have chosen to employ to help their customers make quick, easy crypto deposits – and get all the enhanced crypto betting bonuses and perks – without having to jump through the typical hoops associated with acquiring cryptocurrency for the first time.
That process can take up to 10 days if users go through the typical exchanges (Coinbase, etc.), but it takes just a few minutes to fund your betting account with crypto using the QB Direct platform.
The sole difference is that crypto acquired via an exchange is stored in your exchange account or external crypto wallet and can be spent or traded anywhere, while crypto deposited at offshore gambling sites using QB Direct can only be used at the sites in question.
That said, once you request a withdrawal, you can choose to be paid out via crypto, which you can then sell or trade at your convenience. As of Q4 2020, the cryptocurrency of choice for QB Direct betting sites is Litecoin (LTC). Those interested in making Bitcoin betting deposits cannot do so using QB Direct at this time.
How QB Direct Works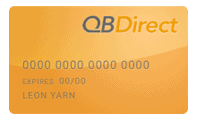 QB Direct has a sophisticated technical backend, but for those using the service to fund their legal overseas gambling activities, that's more or less irrelevant. In essence, the service mirrors the Zelle-to-Bitcoin deposit process, though in a more direct manner.
The main way that QB Direct works is by letting prospective casino, sportsbook, and online poker site members make credit or debit deposits that are translated into crypto (Litecoin) deposits on the fly, so that betting accounts are technically funded with LTC. This allows gamblers to make crypto deposits – and earn all the summary crypto deposit benefits – without having to first purchase and manage cryptocurrency.
QB Direct effectively simplifies the process of crypto banking at offshore betting sites so there's no waiting and no red tape: You just use your credit/debit card as normal, and then Litecoin is credited to your gambling bankroll. Instead of taking days or weeks, the QB Direct gambling deposit option takes just a few minutes.
Casinos Accepting QB Direct
Many of the best offshore casinos accept Litecoin deposits via QB Direct. These legal online casino sites offer literally hundreds of the latest casino games, each boasting trusted random number generation technology (aka RNG technology). Further, all the titles on offer are regularly audited for fair iGaming compliance.
This means that whether you play electronic online slots, digital real money table games, online video poker, or any other classic gambling amusement, you're guaranteed to get the same (or better!) odds to win that you'd find in the best brick-and-mortar casinos worldwide.
Most offshore gambling operators that accept QB Direct payments also offer live dealer casino games for those who want the human touch when playing over the Internet.
Sportsbooks Accepting QB Direct
Some gambling sites operating internationally feature sportsbooks in addition to their casino games. The offshore sportsbooks at such outlets are robust, supporting sports betting markets from all around the world.
Whether you want to bet on the NFL, NBA, MLB, NHL and other American sports or your game is Premier League soccer, Bundesliga soccer, professional cricket, rugby, or literally any other major league you can think of, you can get thousands of the best odds and lines at these sites every single day.
If it's a sport you can bet on, you can bet that you'll find it at these comprehensive QB Direct offshore sports betting sites.
Poker Sites Accepting QB Direct
Proper offshore poker rooms at online betting sites offer real multiplayer cash tables and tournament poker play (as opposed to video poker, which is an online casino game category you'll find in your site's Casino section).
From small Sit 'N' Gos to events with hundreds or even thousands of players vying for six-figure pots, you'll find it all. Not every offshore gambling site offers real money live poker, but many do, and events start around the clock.
Most such QB Direct poker sites even support multi-table features (aka multi-tabling) that allow players to play several games of poker – and win multiple big pots – all at once!
Horse Betting Sites Accepting QB Direct
Most online gambling sites that focus exclusively on casino play do not offer parimutuel racebooks, but if your site has a sportsbook, it likely also offers am offshore horse racing betting section.
These online international racebooks (or international OTBs) feature daily races from tracks in the US, Canada, Mexico, the UK, the Middle East, Japan, Australia, and more, so horseplayers have legitimate horse betting options 24/7/365.
QB Direct-friendly sites that host racebooks include operators like BetOnline, so if you're a horseplayer, you'll need to make sure that the site you join supports this market.
Mobile Offshore Betting Deposits With QB Direct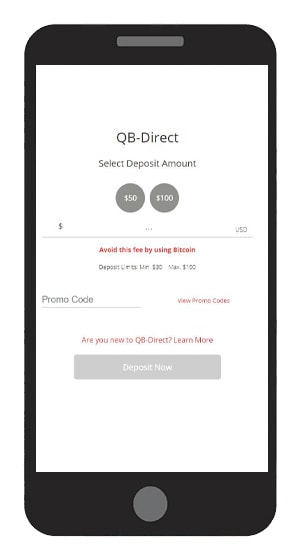 Mobile gambling is the name of the game in the modern age, as nobody wants to be tethered to a desktop or laptop computer every time they want to crank the slots, hit the felts, play a hand, or bet on their favorite players and teams.
With mobile QB Direct support, you can fund your betting activities with the same ease and convenience with which you can enjoy your gambling. Best of all, there's nothing to download, as all the best offshore betting websites have custom HTML-based web portals accessible via any device through any up-to-date browser.
Whether you want quick, fluid iPhone gambling or Android gambling, all you need to do is visit your site of choice using your mobile device of choice, and you'll get a dynamic, touchscreen-friendly betting experience regardless of the dimensions of your display. As long as you have a network connection (cellular or Wi-Fi), you can gamble from anywhere in the USA.
---
QB Direct Payouts
Gambling operators that accept QB Direct for deposits cannot use QB Direct's services to pay out your winnings. However, when you fund your betting bankroll with QB Direct Litecoin deposits, you can choose to be paid out via traditional avenues (check, money order, bank wire, etc.) or in LTC itself. We recommend the latter, because crypto gambling withdrawals are the only way to get same-day payouts stateside.
Litecoin Same-Day Payouts
Since a QB Direct deposit is effectively a Litecoin deposit, you will be eligible to be paid out in the Litecoin cryptocurrency. As stated, this is preferable to other methods because it's the only way to claim same-day payouts on all your casino, sports betting, poker, and horse betting winnings.
That said, in order to receive a LTC payout, you will have to have a Litecoin wallet. There are many free, reputable, and secure LTC wallets available online, but we recommend always downloading your crypto wallet from its developer's official page. Please never use third-party links or mirrors to download your crypto wallet.
---
Cryptocurrency Online Gambling Bonus Options
The best reason to deposit with crypto is because all the top offshore betting sites offer enhanced deposit bonuses and extra rewards perks for those using Bitcoin, Litecoin, Ethereum, and other supported cryptocurrencies.
While same-day payouts are a huge benefit, too, when you deposit with crypto directly – or do so by using QB Direct – you'll get bonuses that far exceed what traditional credit, debit, bank wire, or cashier check deposits will earn.
In general, a crypto deposit will add between 100% and 300% of your deposit to your bankroll in the form of free plays, letting any gambler attain high roller status right out of the gate. Terms and conditions apply, so be sure to read each bonus option's TOS.
---
QB Direct FAQs
---
Disclaimer: QB Direct by QuickBit is not a gambling company and is not affiliated with legal offshore betting sites or this informational site in any way. QB Direct is a third-party cryptocurrency service that lets users quickly and easily make online deposits in popular cryptos like Litecoin without going through the traditional waiting periods to buy crypto as required by other exchanges.