Betonline Sportsbook And Casino Review – Top Rated Offshore Betting Site In 2023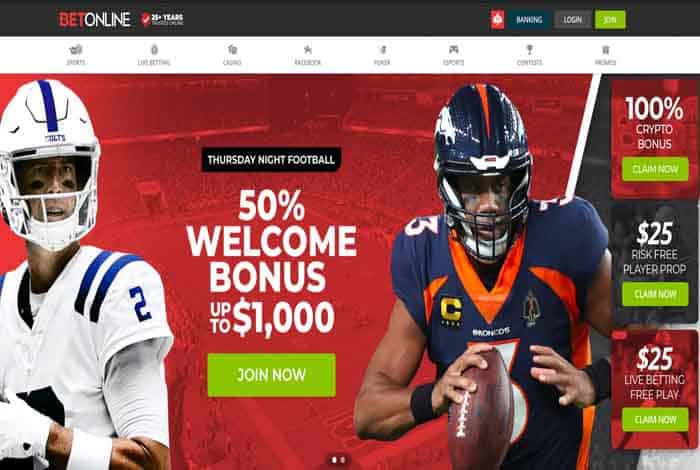 Founded in 2004 and operating out of Panama in Latin America, BetOnline is an international gambling company that offers a wide variety of betting activities, such as casinos, sports betting, horse wagering, poker, and much more. Only recently, the site BetOnline was ranked in the top-60. At first glance, one might think that number to be arbitrary and that being in the top 60 websites isn't a feat.
However, you should take into account that there are literally tens of thousands of online gambling websites operating online today, and to even be in the top 1,000 is a monumental feat. To be in the top 60 means literally that BetOnline is one of the highest-rated sites in existence. Apart from their high rating and their multiple gambling platforms offered, BetOnline also accepts US-based players, which is why they play right in our wheelhouse at Offshore Betting Sites.
In Latin America, they're definitely offshore, and offering their services to American players makes them a solid option for Americans seeking a legal, reputable gambling resource. And once you add in some attractive betting bonuses and plenty of games, BetOnline becomes that much more attractive a proposition.
Betonline Sportsbook And Casino
Reputation

Betting Platform

Offshore License

Payout Speed
Visit Betonline Sportsbook And Casino
BetOnline Super Bowl Betting
If you are thinking about placing a bet on Super Bowl 57, consider becoming a member with BetOnline. Super Bowl odds at BetOnline.AG include futures, game lines, point spreads, moneylines, the over/under, and of course, prop bets. Many of their Super Bowl betting options become live after kickoff, allowing for NFL wagers to be placed in the sportsbook throughout the entire duration of the game.
BetOnline.AG is a trusted Super Bowl sportsbook and accepts members in most states in the USA. They allow for Super Bowl bets to be placed on any web-ready device, and that includes laptops, PCs, smartphones, and tablets. If you plan on shopping the lines for betting on the Super Bowl in 2023, we suggest that you include BetOnline.AG in your rounds.
Will BetOnline Accept US Players?
Yes, BetOnline accepts players from the US, regardless of the state they live in, and has no plans on pulling the rug out from under Americans. This is primarily because the site BetOnline is licensed and regulated by the government authority of Panama, as they're located in Panama City, and that particular region of Latin America doesn't shy away often from confronting the United States.
That's not to say that Panama not minding US players coming through their regulatory body is supposed to be a thumb in the eye; it's just an observation that Panama isn't going to act fearful just because the federal government doesn't want people gambling.
We greatly appreciate when offshore sites allow Americans to play. With over 6 billion other people on the planet, the market is so large that they certainly don't have to allow them. But as gamblers ourselves, we like that a site would allow US players.
---
Safety Measures Employed by BetOnline
One of the things BetOnline focuses on the most is providing timely, reliable payouts. They have a fantastic payout rate that's around 98%, and their security is centered on protecting a player's funds in that player's account and in providing fair play options via random RNG algorithms and lifelike games and odds.
The site itself is SLL certified, uses great encryption and has earned the Responsible Gaming label, which doesn't come without a lot of time, effort, and independent investigators checking out every nook and cranny of the site.
That's not to say that BetOnline is an impenetrable shield, but they've been featured in USA Today, Fox Sports, CNBC, Yahoo, and more, and their tight security is always a strong selling point.
---
Bonuses and Promos at BetOnline For 2023
50% Sports Betting Welcome Bonus Up To $1,000 (10x Rollover)
100% First Time Crypto Bonus Up To $1,000 (14x Rollover)
100% Casino Welcome Bonus Up To $1,000 (45x Playthrough)
100% Poker Welcome Bonus Up To $1,000
25% Sports Betting Reload Bonus Up To $250 For The Life Of The Account (6x Rollover)
30% Cryptocurrency Reload Bonus Up To $300 (7x Rollover)
---
BetOnline Game Selection – Play Real-Money Online Casino Games, Live Dealer Games + Sports Betting, Poker, Horses, Lottery, and More
BetOnline certainly isn't the only gambling site out there offering so many different games, but they may be one of the highest-rated gaming sites to do so. For starters, they have their offshore casino games there. These games include blackjack, roulette, craps, baccarat, keno, slots, and many more.
They also offer live dealer games where players can bet up to $5K per hand.  I personally prefer to play the live games anyways, at least if I'm playing table games like blackjack or baccarat. Then you jump over to something like poker and you'll find tournaments like freerolls, ring games, Omaha, stud, and many others.
Of course, they also have sports betting and horse racing, which allows you to bet on football, baseball, hockey, basketball, pro or amateur sports, international sports, big-time events, and so many other options. It's very difficult to summarize all the games offered by BetOnline. One truly has to see the site for oneself to grasp just how many different options there are.
Apart from the wide selection, another strong point for BetOnline is that they also have instant-play options for casino games, various 3D-compatible games, prop, group and live betting options for their sportsbook, and even skill-based games on which you can bet such as dominoes, gin rummy and spades.
All told, everybody can find a game they like with BetOnline, and everything they offer allows you to bet real cash and to potentially win big money.
---
Banking Options Offered by BetOnline
Unlike some sites that offer many games and even accept US-based players, BetOnline actually has a long, long list of different banking options and not simply a few from which to choose. Of course, you start out with the basics, such as Mastercard, Visa, American Express, and some debit cards. But then you also get crypto betting options, money orders, bank/wire transfers, checks, and more. BetOnline's crypto selection is the biggest in the business and includes the following popular cryptocurrencies:
Bitcoin (BTC)
Bitcoin Cash (BCH)
Litecoin (LTC)
Ethereum (ETH)
Cardano (ADA)
Solana (SOL)
Ripple (XRP)
Stellar (XLM)
Chainlink (LINK)
Dogecoin (DOGE)
Shiba Inu (SHIB)
Binance Coin (BNB)
Polygon (MATIC)
ApeCoin (APE)
Avalanche (AVAX)
USD Coin (USDC)
Tether (USDT)
For withdrawing your funds, you can choose options like P2P, bank/wire, checks, ATM (via a specific card), Bitcoin, Litecoin, Skrill, Neteller, and Book to Book. Of course, you have to make sure that you get the minimum withdrawal amount, which will be based on the method you choose. And you also have to realize that some of these methods will cost money, and some take time and aren't instant. Make sure you choose your method based on what you need.
---
Excluded Countries and Regions
The following areas are not accepted by BetOnline: Australia, Afghanistan, Central African Republic, the Democratic Republic of the Congo, Eritrea, France, Guinea-Bissau, Iran, Iraq, Lebanon, Libya, Mali, Malta, New Jersey, North Korea, Panama, Somalia, South Sudan, Sudan, and Yemen.
---
2023 BetOnline Review Summary
Overall, BetOnline is a gaming site that comes across to us as very strong here at Offshore Betting Sites. The first thing that strikes us legit about the site is that they don't play around with their customer base. US players are not only allowed, they're also encouraged and have a wide range of deposit/withdrawal options available at their disposal.
Then you get into the site's gaming selection, which is massive. Other aspects of the site, such as its customer support, also stand out compared to some others. There are many positive things working in the site's favor.
Perhaps something we'd like to see different with the site is the initial bonus. Sure, the bonus is easier to claim than others, but the 25% just isn't lucrative enough to match everything that the site offers. But they do manage to make up for that with their tight security, their certified realistic games, their easy-load software, mobile apps, and more. We won't put every site we see up there as one deserving of our praise or your money, but we definitely see BetOnline as a solid offshore betting site that might serve you well if you want to gamble.